MMax is a cinema that appeared in the videos "Watching Movies in Minecraft" and "Try Not To Laugh Challenge" as the main location. It is owned by Homie Movie Theater Guy. He reserved Auditorium #1 for him for the two videos.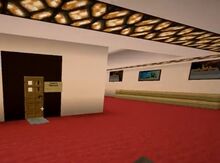 Rooms
The Women's Restroom
Auditorium #1
Theater Lobby
Gallery
Trivia
Auditorium #1 reappears in the video "Reacting to an Embarrassing Video of Me" in a flashback.
Auditorium #1 appears in ExplodingTNT's video If Boys and Girls Switched Places.